Wedding Card Maker Software
▶
▶
Wedding Card Maker Software
Description :
Want to invite your friends on your wedding party. Design your own invitation cards at home using wedding card maker software. Wedding card making program easily creates invitation cards using Text, Clip arts, Signature, WordArt, Image and other designing objects. Software provides facility to create bulk numbers of invitation cards using advanced data set series feature.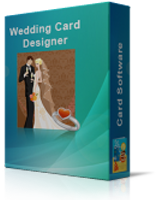 Wedding Card maker software makes wedding cards in rectangle, ellipse and rounded rectangle shape according to your requirement. Now you can easily make customized invitation cards just in few easy steps using wedding card maker application.


Order Wedding Card Maker Software

Single User License
Buy at : $49

Easy to Download Free Trial Version
(100% Secure)



Software Features
Design invitation cards using different card designing tools like Images, ClipArts, Shapes and other objects.
Create wedding cards in different shapes, colors and sizes as per your need.
Provide inbuilt templates for designing wedding invitation cards.
Provide print settings option to print designed wedding cards instantly.
Allow you to make attractive wedding cards using color and background settings.
Wedding card designing program provides email settings to send designed invitation cards via mail.