Barcode Generator for Manufacturing Industry
▶
▶
Barcode Generator for Manufacturing Industry
Description :
Barcode Generator software helps you to design and print different types of barcode labels, price stickers, ribbons for industrial warehousing and manufacturing industry. Barcode software helps to track production, incoming and outgoing shipments, parts, warehousing. Barcodes can be used to track movement along complex supply lines, so that exact locations can be pinpointed rapidly and accurately.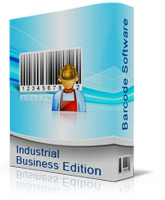 Easy to Download Free Trial Version
(100% Secure)



Software Features
Supports major Linear and 2D barcode font standards to generate warehousing barcode as well as manufacturing barcode labels.
Provide option to set image DPI value while designing barcode labels.
Generate multiple barcodes with rectangle, arc, line, text, pictures and other drawing objects with advance Barcode Designing View.
Create and print bulk industrial barcode labels using barcode print settings.
Provide option to save designed barcode stickers in different image file formats such as GIF, JPEG and PNG etc.