Barcode Generator for Packaging Supply
▶
▶
Barcode Generator for Packaging Supply
Description :
Barcode Generator for Packaging Supply software enables you to design package barcode labels, asset tags and stickers in different shapes and size. With advanced printing settings, Barcode creator software allows you to print designed barcode labels in linear and 2D barcode font standards. Barcode Software provides helping hand to major packaging industries mainly including Food packaging industry, Retail packaging industry, Jewelry packaging industry, Cosmetic packaging and distribution industry needs.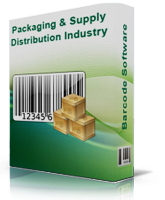 Easy to Download Free Trial Version
(100% Secure)



Software Features
Design and create barcode labels for Food packaging supplies, Food industry, Distribution industry, Wholesale packaging supplies, Industrial packaging, Sweet packaging and other industries.
Generate barcode tags, stickers and labels used in packaging and distribution industry using advance Barcode Designing View.
Generate multiple barcode lists using Sequential Series, Constant Value Series and Random Series options.
Provide option to save Barcode images in different file formats including JPEG, TIFF, Bitmap, PNG, WMF, EMF, EXIF and GIF.
Provide option to specify barcode header, barcode footer and barcode value.