How UPC barcode is helpful for business.
If you have barcode font knowledge and as you look into your cupboard or pantry right now, you will be really stunned to find that just about every package you see a UPC barcode printed on it. Nearly each and every item you tend to purchase is packed with the inclusion of a barcode created in user desired style using UPC barcode fonts. Business owners' objective should not only be to create EAN UPC barcode for business enhancement but at the same time to create professional UPC barcode types consisting of UPC A barcodes and UPC E barcode code of premium quality that can solve your business complexity with ease. And now to make UPC barcode for your business, what you really need is to get in hand the easy to use UPC barcode creator software.
Barcode Generate – Corporate Edition provides facility to design barcode in any linear or 2D barcode Font.
Here we are explaining step by step process about how to generate UPCA barcode using barcode generator – Corporate Edition.
You can design and print UPCA barcode using any of the following methods -
Sample of UPCA Barcode Font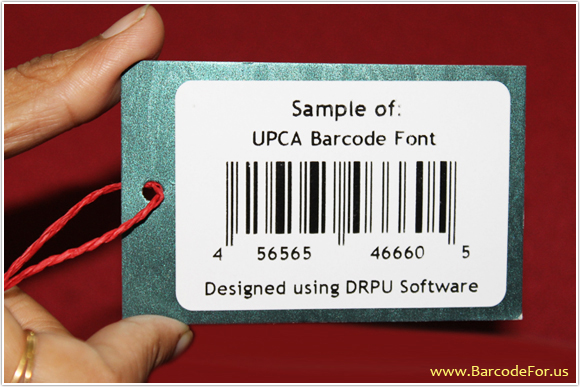 Choose designing mode either barcode settings or barcode designing view (here for demonstration purpose we are using barcode designing view method).
To insert UPCA barcode on label, click on barcode icon from drawing tools. Double click on default barcode to work on its properties as shown below.
Once you design your UPCA barcode font, DRPU Barcode generator provides option to print your create barcode label.
Click on "Print" icon from standard tools, following print window will be appeared -