Overview of Barcode Software
▶
▶
Overview of Barcode Software
Barcode Label Maker Software creates professional barcode labels in various Linear and 2D barcode symbologies
Linear Barcode Fonts
Coda bar, Code 11, Code 128, Code 128 SET A, Code 128 SET B, Code 128 SET C, Code 39, Code 93, Code 39 Full ASCII, EAN13, EAN8, Industrial 2 of 5, Interleaved 2 of 5, ISBN 13, ITF-14, LOGMARS, MSI Plessey, Planet, Postnet, Standard 2 of 5, Tele pen, UCC/EAN-128, UPCA, UPCE, USPS Sack Label, USPS Tray Label, USS-93
Different Linear barcode font symbologies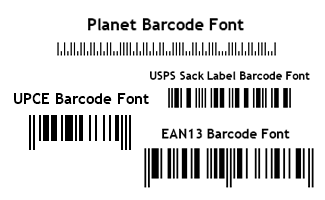 2D Barcode Fonts
Aztec, Data bar, Data bar Code 128, Data bar Code 128 Set A, Data bar Code 128 Set B, Data bar Code 128 Set C, Data bar Expanded, Data bar Limited, Data bar Stacked, Data bar Stacked Omni, Data bar Truncated, Data bar EAN 13, Data bar EAN 8, Data bar MicroPDF417, Data bar PDF417, Data bar UPCA, Data bar UPCE, Data Matrix, Maxi Code, PDF417, QR Code, MICR Font
Different 2D barcode font symbologies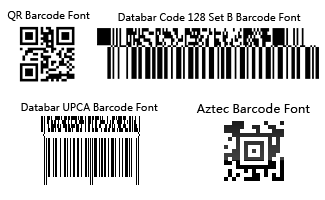 This barcode maker customizes your barcodes easily and output barcodes to a printer for simplistic printing that allows user to visually place the image on the page based on their printer's settings.
Barcode is the small image of lines (bars) and spaces that is affixed to retail store items, identification cards, and postal mail to identify a particular product number, person, or location. The code uses a sequence of vertical bars and spaces to represent numbers and other symbols. Barcode creator developed as an alternate solution for all manual data entry systems as it provides quick barcode label generation.
User can easily open the existing barcode list and use it while making the new barcode labels. Barcode creator provides the facility of saving the barcode images. Barcode label maker software facilitates user to change the barcode label specifications that includes barcode font, page and length settings.
Advantages of Barcode Label Maker
Software provides easy way to create barcodes labels in few mouse clicks.
The user is allowed to create barcode labels using advance barcode settings.
Software easily generates constant, random and sequential barcode label series as needed.
Allows to specify barcode value, barcode header and barcode footer with barcode font and barcode caption as per requirement.
Generated barcode labels are easily scanned and printed by various barcode scanners and printers.
Provide option to print multiple barcode labels on single paper with print preview facility.
Facility to create labels with barcode and image designing objects including Text, Line, Picture, Ellipse, Arc etc.
Provide option to save created barcode images in different file formats.
Supports latest Windows OS platform including all editions of Windows 7, Vista and XP along with Apple Mac OS installed machines.
Barcode Label Uses
Super markets – To tabulate the results of direct mail marketing returns
Retail stores – To take inventory in Retail stores
Shipping – To track manufacturing and shipping movement
Healthcare agencies – To identify hospital patients
Companies – To sign in on a job
Library – To check out books from library
Warehousing – To manage stock in a company
Price/item marking – To save time consumed while manual data entry process
Phone companies – In identification cards
Financial services – To increase the security level
Transportation companies and many more.